D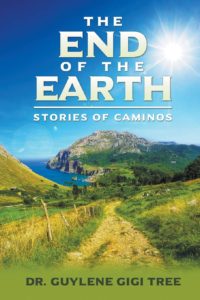 r. Guylene Gigi Tree is a pilgrim from California with three Caminos behind her, a book based on these experiences, and a second book scheduled for publication by the end of the year. She has travelled the USA giving lectures, meetings and conferences and spreading the word about the Caminos.  For three consecutive years now, she has come to travel it, even this year, 2020.  Dr. Tree just finished seven weeks of walking three Caminos beginning in Seville along the Via de la Plata, then at Montamarta branched westward along the Camino Sanabres to Santiago, then finished up with the Camino Fisterra.
– How did your relationship with the Camino de Santiago start?
I had been wanting to walk a Camino for many years and when I retired, three years ago, I decided the time had come.  After a lot of research on the various routes, I decided to walk the Camino Frances from Saint-Jean-Pied-de-Port to Santiago and on to Fisterra.  It was a most incredible and life changing experience. I was blessed by the experience of the Camino, a journey which had been initiated so many years ago and kept alive by so many pilgrims through the ages that I know I should give something back.  We all have our talents, gifts, and mine are in research and education.  Thus, the book and lectures.  It is my way of giving back to the Camino for the benefit of those who come after me.
– Was that the origin of your book The End of the Earth. Stories of Caminos?
The book is not a travel guide, nor an itinerary for Caminos.  It is a collection of stories about experiences that happen not only to myself, but stories I have learned of through conversations with fellow pilgrims.  They are funny, sad, inspiring, informative, through provoking and educational.  Each story has a lesson to be learned or ideas to be contemplated.  Those who have walked a Camino will relate to many of the common situations we have all experienced.  Those who are planning a Camino will gain some valuable information on what to expect and how to negotiate the day to day routine.  Those who just want to experience the Camino from the armchair will certainly be experiencing the ups and downs, highs and lows, and enjoy the trip vicariously.
The writing of this book is one way that I can give back to the Camino.  I also am readily available and am called upon regularly to do presentations for book clubs, walking clubs, outdoor recreation clubs, Zoom meetings, and chapters of American Pilgrims on the Camino. I very much enjoy sharing my love of the Caminos with anyone who is interested.  Of great pleasure for me is when people who were unaware of the Caminos learn of them through my book or lectures and get excited about it and begin to make plans for their Camino.  That is a fulfilment of my personal commitment to keeping the Caminos healthy, prosperous, and moving forward in a positive direction.
– You published your book after two 'ways', you could continue spreading it this year … but despite the restrictions and mobility problems that Covid-19 has imposed, you decided to return to the Camino …
It was especially important for me to come this third time, especially with the problems of this year. I think I wanted to get the message across to people that when there is a legal and appropriate opportunity to walk a Camino, and it is physically possible, we need to return in support, especially in times like these.  Do not forget that the Camino can die, that you must keep walking it.  It is the pilgrims who keep it alive.
– And with this new Path that you have just concluded, the idea of writing ​​a new book came to you  …
Yes, my first book is made up of stories that I heard, knew of, or personally experienced on the Camino. I will continue working along those lines, but I would like to expound upon the ways that the Caminos are changing at this current time.  I will focus on what I have seen, what the trends are and the direction these trends are going.  The Camino is like a living organism, it is not static.  It is in constant evolution, a change in which we, the inheritors of the tradition, must recognize and help in this development.
Something that I have loved about the Camino is that it allows you to live with a kind of spontaneity. I like to say, "you must plan to not plan."  On the Camino each day is new, unexpected, you never know what you are going to find.  Each day is like a gift you unwrap to be surprised and delighted by the treasures revealed.  That spontaneity has decreased this year, because you must follow strict guidelines which often negate the previous freedom.  No longer can you just walk into town and assume you will find lodging and food.  Many of the Hostels and smaller Albergues were closed.  Many of the larger hotels were only renting at 20% capacity.  Everything needed to be pre-booked and pre-arranged from hotels to restaurants and even to museums. This year I found that I had to book my lodging the day before to make sure I had a bed.  This meant that each day I had to know how far I would walk and what town I would stop in.  At restaurants I had to make reservations to keep within the limits of patron numbers allowed for the establishment.  All restaurants are non-contact, so you had to scan the QR code with your phone to see the menu. I think that some of these restrictions will remain after the medical condition is controlled.  This will make the new generations of pilgrims unaware of that essential aspect of the Camino which is spontaneity and self-resourcefulness.
Other previous pleasures of the Camino will need to be modified such as the evening communal meal at the Refuggios or Albergues.  The morning breakfast buffet.  The 20 plus people in a dorm room.  The communal showers. The extra blankets in the hallway for those who get cold.  The kitchens where everyone shares in the preparations of dinner.  As I said earlier, the Camino is an ever-evolving experience.  It has changed and will continue to change.  But, of course, you must understand that the changes are not negative. The changes indicate that the Way is alive and, just as in everyday life, we must accept them and follow them to our best possible advantage.
– In your book, religion plays a very important role: from a spiritual point of view, in relation to your interest in Spain and also for practical reasons, such as food …
Yes, my religion is especially important to me.  I am an Orthodox Jew, Chabad, and the Camino de Santiago is a Catholic pilgrimage route.  I often get asked why a Jew would do a Catholic pilgrimage.  My answer is simple; the Camino has no religious borders.  It is open to everyone.  The Camino is a spiritual, sacred space where the divine can be experienced in a myriad of approaches.
Another matter of interest for me is the history of the area.  In Western civilization there has only been one moment when the three Abrahamic religions, Muslim, Christianity, and Judaism, were able to live together and prosper in harmony and collaboration. There is no other example of coexistence between Christians, Jews, and Muslims than that of Spain.  My question is why, how, and what we can learn from this history to benefit out future.
As a religious Jew, a concern for me in going on a walking trek through Spain, was the availability of Kosher foods.  I learned a lot on this topic through trial and error.  Yes, it is very possible to keep Kosher in Spain, but you must know the tricks.  In my book I go into great detail which hopefully will answer most questions and relive stress for fellow Jews who would like to experience the Camino.
One interesting encounter I had on my first Camino was learning that in Spain, pork is a food group.  I say that jokingly, but it is true.  One evening in a restaurant I thought I would be safe by ordering a salad.  When the lovely presentation of lettuce and vegetables arrived covered with a sprinkling of bacon bits, the waitress replied "yes, that is a vegetarian salad.  Those are just bacon bits." I quickly learned how to order my vegetarian salad with no bacon.
In the book I also explain how to negotiate the grocery store and locate kosher food items.  They are there but labelled differently than you would find in our stores in the US.  Certain food items such as cereals, crackers and cookies are prepared and labelled kosher for the US market.  These same items are packaged non-kosher for the European markets.  Most larger markets have an "International" section where you can find the products that are kosher for the US market.
– This year 2020 you have made a long Camino of seven weeks, tell us a little about your experience of walking in times of Covid-19 …
As I mentioned earlier, I began in Seville following the Via de la Plata, then at Montamarta branched westward along the Camino Sanabres to Santiago, then finished up with the Camino Fisterra.  I had originally planned to do this route in June and July but had to postpone my trip week to week until finally in September I was allowed to go.  This meant that my hot summer clothing needed to include some items just in case of colder weather.  The southern area of Spain encountered an unusual series of storms which presented me with multiple days of cold rain and wind.  A couple of times I had to just stop and wait out the storm in a hotel.
Another change in my Camino this time was the accommodations.  Many of the hostels were either closed for the season or had never opened.  I did find a couple that had private rooms that they would rent, but the main dormitory rooms were closed.  I mostly stayed in Casa Rurals, B n B's, and hotels.  I secured the reservations using various online phone apps and really did not encounter any problems.  I just had to make sure I could make the required kilometres each day to make it to my reserved room.  Most hotels are no longer offering refunds.  If you book the room and cannot make it, not only do you still have to pay but you have the inconvenience of trying to find other lodging.
Another big change on this Camino was the lack of other pilgrims.  On the Camino Via de la Plata I only saw 4 other pilgrims, two were in the first week and the other two a few days later.  Then, on the Camino Sanabres I saw only one other pilgrim.  Of course, when I arrived in Santiago, I saw many pilgrims but during my walk it was very lonely.  The aloneness was nice on one hand, being in the world solo, just you and the divine.  But, the fellowship of other pilgrims is a big part of the whole experience, a part that was absent this time.
As I mentioned, the weather was an unexpected hardship.  It rained an unusual amount with high winds and lower than normal temperatures.  All the locals were as surprised as anyone with this atypical weather system.  Complications arose when whole sections of the Camino trail were washed out or flooded, necessitating in taking public transportation around the area to resume the trail.  Technology played an important role in this Camino as I had to rely on my GPS app on my phone to find alternative routes.  I called this type of Camino my "rogue pilgrim" mode.
I have always felt that a Camino does not end in Santiago and I have traditionally continued to Fisterra, the End of the Earth.  I do not feel that any one part is better than the other.  It all needs to be appreciated in its entirety, like a symphony where one section leads to the next finishing in a coda.  Each Camino is an experience unto its own.
– What do you think the Camino has brought to your life?
When we divest our lives of most material possessions and reduce them to one backpack, you feel you are truly alone in the world.  Just you, some basics for survival and the world.  It is in this state of solitude that things happen, both good and sometimes bad.  For example, I took a terrible fall smashing my face into the pavement.  I was five miles from the nearest town.  Bleeding profusely, fractured face bones, concussion, my only option was to pull from deep inside and continue walking.  I honestly believe that the divine does not allow things to happen to us that we cannot handle.  As I arrived at the edge of the town it was a young teenage boy who helped me get to the local hospital.
– And it's time to go home … what will you do when you get to California?
My first project is to start writing a new book. As soon as I return to California, I will start it. The first was The end of the Earth, stories of the Camino and this second will be similar. I will entitle it The end of the Earth: more stories of the Camino. I write easy-to-read books that seek to convey my experience and inspire the desire of other pilgrims to live it.
My book is a labour of love.  My publisher often teases me because I seem to give away so many as gifts.  But this is my gift to the Camino.  My gift to those who came before me and my gift to those who will come after me.  It is my way of saying Thank you Camino de Santiago.